---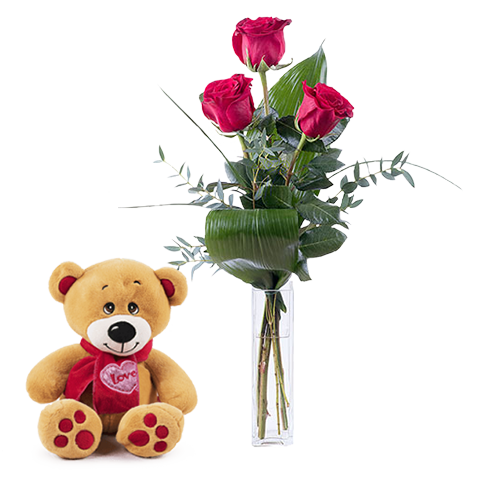 3 red roses and teddy bear delivered with FloraQueen. Flowers and gifts delivered internationally for special occasions and celebrations.
Send Gifts for her that she will love
Sending gifts for her is now easier than ever with our wide variety of beautiful gift ideas and flower combos. There are many special women in all our lives: Mothers, grandmothers, sisters, aunts, friends, colleagues and of course wives and girlfriends. Each one of them makes an impact on our world in some way and a well-chosen gift for her on a special occasion is the perfect way to say thank you for everything she´s done for you.
It doesn´t matter if it´s a gift for her birthday, your anniversary or just to say that you appreciate her. We offer a fantastic choice of gift ideas with international delivery so that you can let her know you´re thinking of her even if you´re far away.
Gift ideas that will delight her
Choosing a gift for her is sometimes difficult when there is so much choice available. Every woman is different. Some love old fashioned surprises like flowers and chocolates, whereas others would prefer wine and perfume. That´s why we offer a range of classic gifts for women that are always appreciated as well as sophisticated surprises that will make her feel loved.
A well-chosen gift delivered to her door on a special occasion sends a genuine message of thought and appreciation. It doesn´t matter if it´s a gift of roses and a plush toy or fragrant perfume paired with fragrant gerberas or lilies, send her a gift that counts.
Add something extra special
All our orders allow you to add a little piece of you and your personality. We have a range of add-ons and extras that will let you go the extra mile when you send your wishes for her special day including refined wines and champagne, delectable sweet treats and opulent cosmetic products.
You can also add little touches that will make your gifts arrive looking incredible, such as gift wrapping and themed cards, where you can add your own personal written message of love.
Send her your love with international delivery
We deliver our flowers and gifts worldwide with our international delivery service. Simply pick the country you wish to send your gift to and tell us when you want it to arrive and we´ll take care of the rest. If you´re sending flowers with your gift you can rest assured that they will arrive in the best condition as our network of expert florists help us to guarantee freshness for up to 7 days.
Receiving a gift on a special day brings joy to so many people, be sure to share some of that joy when you celebrate the women that you love.