Vlando purse, Swarovski bracelet and soft teddy bear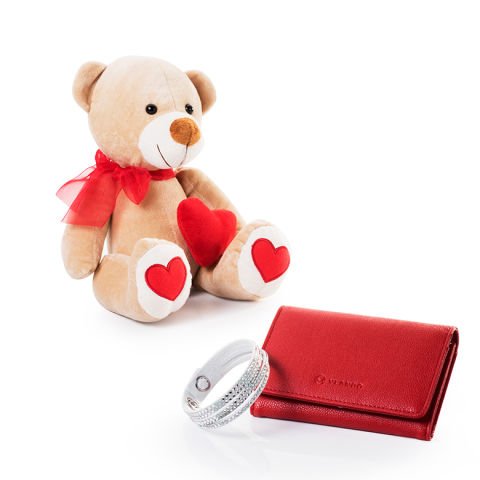 Three little somethings in a very sweet pack
Pick the "little somethings" pack if you want to surprise her innocently. We've created this pack so that you can say "I care about you", "I like you" and "I want to surprise you"… And we're sure that she'll appreciate your intentions. A teddy bear is always a special friend, one we can hug at any time. The bracelet included in the pack, modern and contemporary, is perfect for daily use. As is the purse, a really practical item that is always well-received.
Gift Details:
Vlando purse: perfect for keeping business cards, credit cards, small documents and notes as well. It has a zip and an exterior compartment for cards that closes with a button clasp. Colour: red

"Simple Twist" bracelet: a wide My Collection bracelet, with perfectly-formed rows of Svarowski glass. It dazzles, is modern and youthful. It can be worn with informal, every day clothes, and also with a smart-casual look. The combination of white and glass is very attractive. And its button clasp is just so convenient.

Teddy bear: to melt her heart, to fall in love with, to surrender to. A teddy bear needs no words, as its symbolism is such that it will delight anyone who receives it.